The mention of my son's name may bring tears to my eyes,

But it never fails to bring music to my ears.

If you really want to help me, Say His Name,

Say Kenny To Me, Share With Me A Memory You Have Of Him,

Let Me Know You Miss Him To, let me hear the beautiful music of his name.

It soothes my broken heart.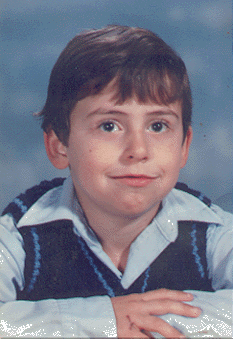 Kenny always wanted to be a chef. From the time he was a little boy he loved to cook. We were very lucky to have enjoyed some of his delicious creations...he also wanted to someday open his own restaurant in NYC. We of course think it would have been the best restaurant in town.

Some other of his favorite things were: music, plays, girls, friends, Nintendo, hackysack and just hanging out with his sister.

Kenny. He was 7 years old.

And Ken was 14 here, Graduation Day June '96

Kenny's love for animals was wonderful. When he was only 7 years old on his way to school he found a baby bird that fell out of a tree and he tried everything to get it back into its nest without hurting it. He almost broke his arm trying to help that little bird. Finally some neighbors came and helped him and the bird. Kenny's favorite animal in the world was his dog "Mystic". Kenny picked her out himself at North Shore Animal League in Long Island. We went there to try to find a smart little white dog to adopt. Wellmystic is not little, white (she is a dark strawberry blond) nor is she "the brightest light in the theater" as I used to tease Kenny, but Kenny loved her so much from the moment he saw her (we think he felt sorry for her). When Kenny's sister's kitten "Howard" became very sick, and had an eye infection as well, Kenny cared for the kitten everyday till the kitten was well again, not only cleaning the kitten's eye but also taking care of giving him his medicine every day. Kenny just had a wonderful way with all animals.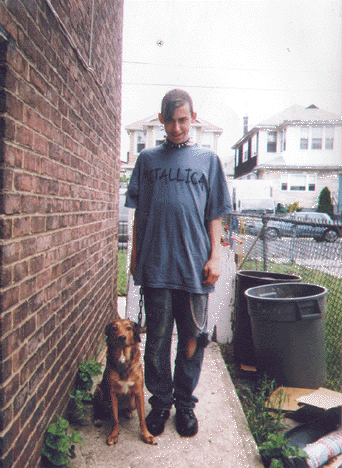 Kenny liked all kinds of music... from heavy metal to Beethoven, the soundtrack of  "Les Miserables`" to "Nirvana" or "Metallica" to "Kenny G"... I could hear either the "Sex Pistols", "BB King" or many different kinds of music playing all the way up the block and know "That's my son, listening to his music again." Kenny and his uncle buddy would often joke with each other over who was a better recording artist: BB King or Roy Orbison. Kenny would tease, saying BB was better, not letting his uncle know he liked them both the same. Uncle Buddy went out and bought Kenny his first Roy Orbison CD.

Kenny also loved to go to museums with his sister. They would very often take off together to many of the museums in Manhattan, most often "the Metropolitan Museum of Art". Ken's favorite artist was Vincent Van Gogh and his favorite print by Van Gogh was "Starry Night". Or he loved to go to "the Museum of Natural History". From when he was a very little boy he loved dinosaurs, so his sister often would take him to "the Museum of Natural History" with their Aunt Marley, who they both lovingly call "Mamoo". He could spend the whole day there telling every detail about dinosaurs.

Kenny also loved to go see Broadway plays. He only got to see "Les Miserables", "Miss Saigon" and "Cats". He enjoyed them so much. I am so glad Kenny's sister took him to see them, it was a wonderful time they both shared and a memory my daughter is so grateful for.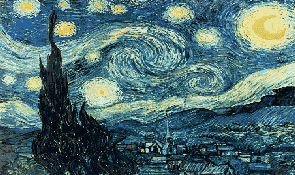 Kenny liked old movies as well as some of the new ones...

He started collecting movies when he was a little boy, first with children's cartoons and movies like "it's a Charlie brown christmas","neverending story pt.1" or "come home snoopy" and then as he got a little older he saved many Christmas movies like "it's a wonderful life" and many different versions of "a Christmas carol"...then he just kept collecting old movies...

Among some of the old ones he collected were:

"Casablanca","a clockwork orange","gone with the wind","soylent green","one flew over the cuckoos nest","the scarlet letter", to name just a few of the old movies in kens collection...he also had the entire "star wars" movies and "American pop" and also "titanic" to name a couple in his newer collection...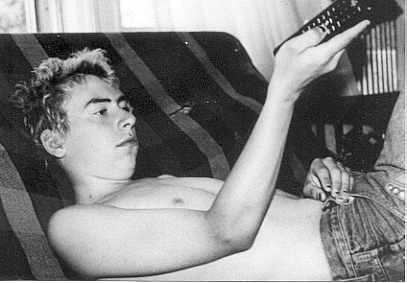 Kenny With T.V. Remote     In Hand VCR On,He Loved Old Movies,He Is 17 Here...

Kenny also liked to collect gargoyles, crystals and baseball cards...

Kenny also loved history... all history. Especially American history...

He loved to read about it or watch a TV. show about it...

History was also his favorite subject in school...

He would often talk with his uncle charley about the history of many countries or politics...

He also thought Richard Nixon was "misunderstood but still a great president". Although his father, sister and his me (his mom) were democrats Kenny insisted he was republican (maybe "he was just teasing us" his sister would say).

Whenever I would vote I would take Kenny with me... ever since he was a little boy, and I would bring him into the "booth" with me just so he could see that I was voting for at least one republican (usually one I could agree with him on) and I would even let ken "pull the bar down" for "our" vote...

Kenny was looking forward to 2000 when he would be old enough to vote "on his own"... he was going to turn 18 in January...I'm so grateful now for "sharing my vote" all those years with my son because he never got to turn 18...


He was very affectionate with his family and his friends.

Two of Kenny's friends said it best: "Kenny was, is and always will be love. We all learned from him not to be afraid to show our feelings."  Those two friends were Harry and Raynar. They were Kenny's best friends. Kenny had many friends though, all of which he loved. Each one held a very special place in Kenny`s heart and always will.

I wish I could name you all here but there just isn't enough room...

Kenny and his sister Eileen ("Buffy") were very close. Since he was born they were always together, and as they grew they just grew closer. They would sit and talk for hours about everything from philosophy or religion to music and books, and as his sister would say, "We learned so much from each other." They learned much about people and life from each other. They were very protective of each other as well. As siblings they sure had their share of disagreements, but no one else could ever get involved or try to get between them because they would both turn on the third party. (J) They shared everything from happiness to heartache and all things in between. The love, respect, admiration and closeness Buffy and Kenny shared was visible to everyone who knew them, but mostly it is what helps Buffy and gives her the strength to go on now without her brother Kenny, because in her heart she knows he will always be with her.

Kenny loved many people and was never afraid to show that love,

and he was loved by so many in return.

Kenny is also missed very deeply by all of his cousins, who all shared many memories of growing up with him. The shock of losing Ken is very hard on all of them. I would like to say here that I am very proud of all of my nieces and nephews (Ken's cousins). They are a wonderful group of kids and young adults, who all tried to be so strong for me and my daughter "Buffy" during ken's funeral. I love you all. I also want to thank my niece "Patty-Jo" who has been an angel for me every time I call on her for anything. Patty-Jo, I dearly love you, hon, and thank you for being there and for just being you!!!!

Kenny's aunts and uncles are left with so much heartache and sorrow...

But also wonderful memories of Kenny.

His Aunt Gloria was very good to Kenny, Sometime he would go to visit her just to be around her, Aunt Gloria was always very kind and fun for Kenny to be with. When she found out how much Kenny loved "Les Miserables" (the book & the play) she taped a special from TV just for him. I still have that vcr tape, Kenny wrote "Aunt Gloria made me this,I love her" and he drew a heart next to her name...

His aunt, "Mamoo", took Kenny many places: swimming (she even taught him how to swim), museums, the shore, or just riding in her car. And never forgot his birthday she took him to his only "wrestling show" at Madison Square Garden where he got to see many of his wrestling heroes live. He always was a great wrestling fan. It was his 11th birthday and one of his fondest memories.

Kenny's Uncle Buddy was also Kenny's godfather and always played with Ken. No matter how rough he wanted to play, Uncle Buddy would let him, and Kenny always loved that.

Aunt Susan used to rub Kennys back when he was a baby to help put him to sleep, He Always remembered that comforting feeling Aunt Sue gave him,

And she always laughed at his jokes... Ken loved that.

Aunt Eileen was another one of Kennys Aunts that would laugh and tell Kenny a few jokes also. Kenny loved to see Aunt Eileen & Uncle Billy they made a fuss over Kenny every time they saw him.

Uncle Pat always treated Kenny like an adult,Even when Kenny was only 8 or 9 years, It made Kenny feel very important. Kenny enjoyed talking with Uncle Pat about everything.

Uncle Charley (as I s mentioned earlier) would talk with Kenny sometimes about history Or politics (2 of Kennys favorite topics), Kenny learned alot from all my brothers & sisters.

And I think we ALL Learned falot from Kenny too.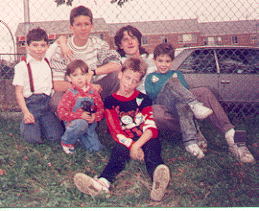 Ken, Keith, Dan, Joey, Robert and

CJ - Ken with some of  his cousins...he was 8 years old here.

Kenny and his Uncle Buddy

arm Wwestling. Ken Is 12 Here.

Kenny and "Mamoo"

at karate recital - Ken Is 10.

Ken and Aunt Sue on Kenny's 12th birthday.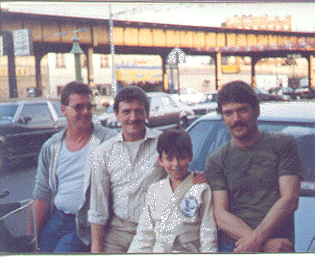 Uncle Timmy, Uncle Paddy, Kenny ad Uncle Kenny in '92 right after karate recital.

Uncle Tim & Uncle Ken met my son In heaven. And now (June 26th 2013) they met Paddy at Heavens Gate...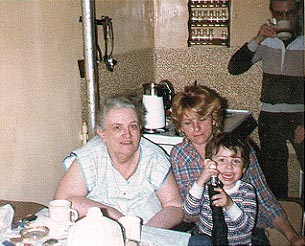 Some stats about Kenny- favorite color: black and green - favorite food: Italian - 

favorite actress: Christina ricci  - favorite TV show: Seinfeld, wrestling & Mad TV -

favorite thing to do: hanging out with his sister or his friends, listening to music.

Kenny 17 at years old. This is one of our

last pictures of Kenny, taken in May 1999.

Look at his beautiful happy face.



Please stop here if you need help in finding a grief resource on the Internet. You will find many links here that are very helpful too.

Click on the memorial candle here.


Kenny loved wolves so much,

They were his favorite wild animals,

Thank you Andrew for sending this wolf for Kenny's page...





Kenny You Will  Always  Be In Our Hearts


This little dove of peace flies from site to site.

Please help it make a line around the globe

by taking it with you to your site and giving

it to someone else for their site. TY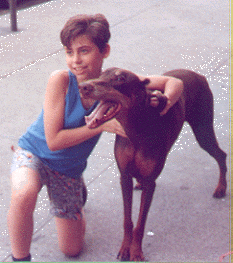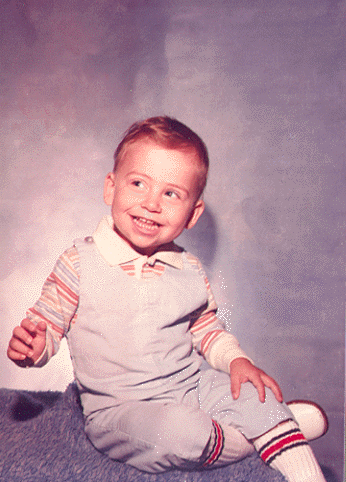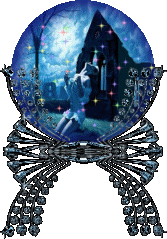 My mother Margaret Rose Hogan Bowen, with me and my son Kenny in 1986. My mom went to heaven in 1993. She left before her two sons, Kenny &Timmy, and my nephew Joey and my son Kenny. I guess she had to make things comfortable for her family. My mom always was like that; she helped all her children and grandchildren.

I have many memories of my son, but sometimes even the good ones hurt now. I hope that Kenny is in a beautiful place with his uncles,

Kenny, Timmy and Joey

His Aunts Eileen and Ellie

His father, Grandparents and cousin Joey.

I hope they look at us through a heavenly doorway, and I hope he doesn't cry for those of us he left behind... I still worry !!!!

I miss them all so much - I love them all so much -

but I miss my son most of all -

I wish I could see them all once more, but

I WANT MY SON BACK....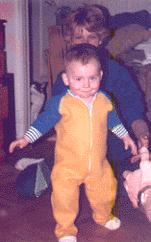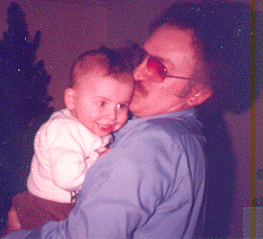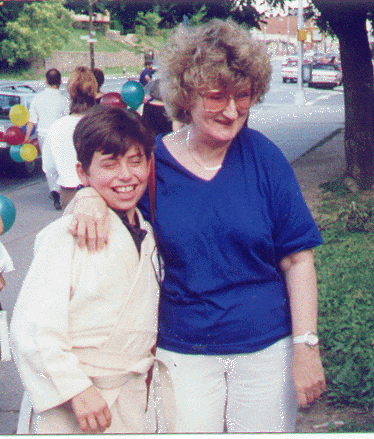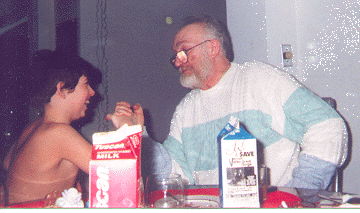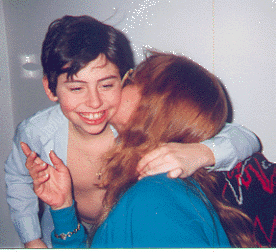 Please Sign The Guest Book So I Know Who Visited Me :)

Thank You :)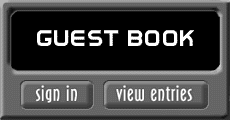 This page was lovingly updated on: August 7, 2013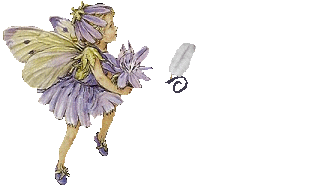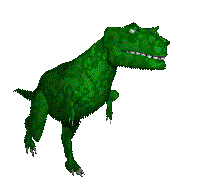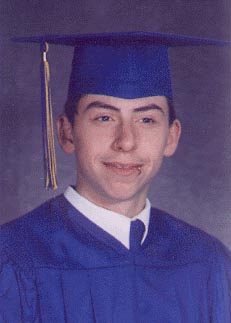 Kenny was born on a Saturday, Jan. 23, 1982, at 12:52 am

He weighed 8lbs.9oz.and he was 19 inches long.

He had a little hair that was auburn.

My Son

"Kenny"

1982~~1999

My Angel


My brother Kenny was always like a father to my son. He was my son's most favorite uncle and hero & everyone knew it. My son never got over the loss when my brother died, in fact he used to ask if he died would he be able to be buried with uncle Kenny. My sister Eileen's son Joey is also with my brother Kenny.

When my son left my sister said Kenny and Joey will both be safe with their Uncle Kenny now, and thanks to my dear sister my son rests with his uncle Kenny and his cousin Joey.

~~~

My sister Ellie went to Heaven

1n Jan. 1987,

My nephew Joey went to heaven in 1993, 9 months after my mother. My brother Kenny went in 1995, then my brother Timmy joined them in 1996 and my son left us in 1999...In May of 2003 we lost our Brother Joey  and Our Sister Eileen left us in June of 2003...

Uncle Paddy Joined them All on June 26th 2013...

We miss you & love you all so much.